The monthly luncheon meeting of the Austin Mortgage Bankers Association (AMBA) welcomed Steve Zbranek as their speaker Wednesday September 8th at the Austin Country Club. Mike Carroll, current AMBA President, introduced Zbranek who is not only the immediate Past President of the Home Builders Association of Greater Austin, but the two-time consecutive National Master Builder of the Year for 2011 and 2010, Austin Business Journals 2011 Custom Home Builder of the Year and the 2010 State and Austin Custom Home Builder of the Year, as well as the current Chairman of the Lake Travis Chamber of Commerce.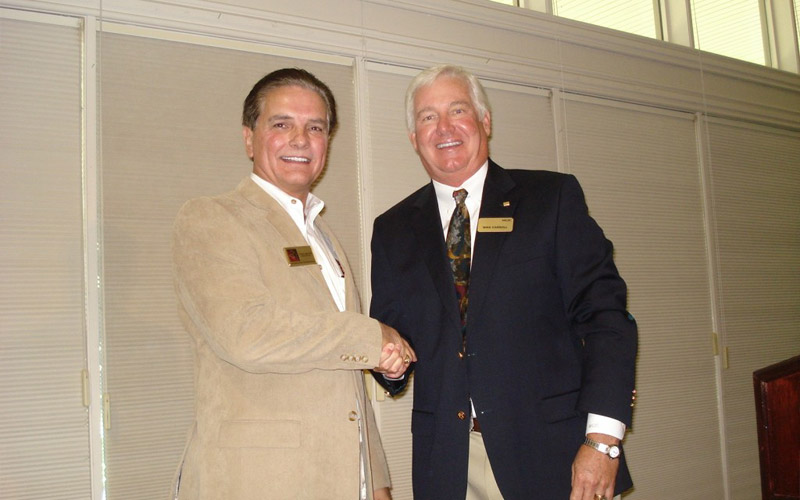 Steve Zbranek with Mike Carroll current President of the Austin Mortgage Bankers Association
Zbranek addressed the Austin Mortgage Bankers Association bringing his 32 years of business experience and fine tuned approach to Customer Service. He spoke about "Creating a Customer", a subject he is passionate about in his company Zbranek & Holt Custom Homes. Explaining that Zbranek & Holt only sells Pre-Sold custom homes, holding no lot inventory or building any speculative homes, and therefore their custom home building company in Austin only "Sells Dreams" to those people looking to build their home. He discussed tips and suggestions with members about how relating to the customer has helped he and business partner, Tony Holt, build a successful custom home building company in the greater Austin and Texas Hill Country area. AMBA attendees were entertained by his motivational and energetic style while presenting successful traits for creating customers utilizing assertive customer service. Mr. Zbranek covered topics including; Branding Yourself Differently, Networking Effectively, Bringing Your Best, and Creating the Better Customer Experiences. He shared personal stories, antidotes and some of his personal favorite books that have helped him develop a level of Customer Service that creates a sense of family for all Zbranek & Holt Custom Home clients.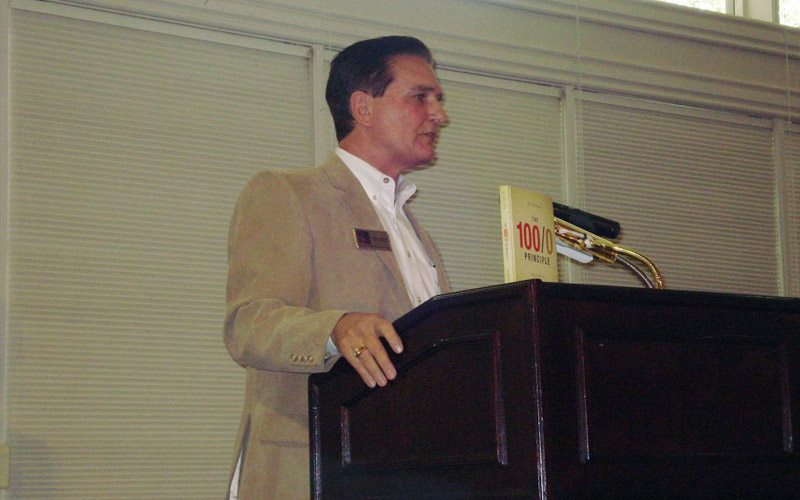 Steve Zbranek displaying a copy of The 100/0 Principle by Al Ritter to AMBA audience
Zbranek's recommended "reading list" for better customer service and overall client relations include:
The 100/0 Principle by Al Ritter
212 the extra degree by Sam Parker
Little Red Book of Selling by Jeffery Gitomer
Twice as Much in Half The Time by Amy Jones
You Can't Send a Duck to Eagle School by Mac Anderson
The Austin Mortgage Bankers Association provides networking opportunities, social events, educational programs, and industry updates for mortgage professionals in Austin and surrounding areas. Mr. Zbranek, donates his time speaking throughout the Greater Austin Texas and surround Hill Country area to local Civic, Chambers of Commerce groups and industry related organizations on the importance of assertive Customer Service. Zbranek and his business partner Tony Holt strive to make superior customer service the hallmark of their custom home building business at Zbranek & Holt Custom Homes.