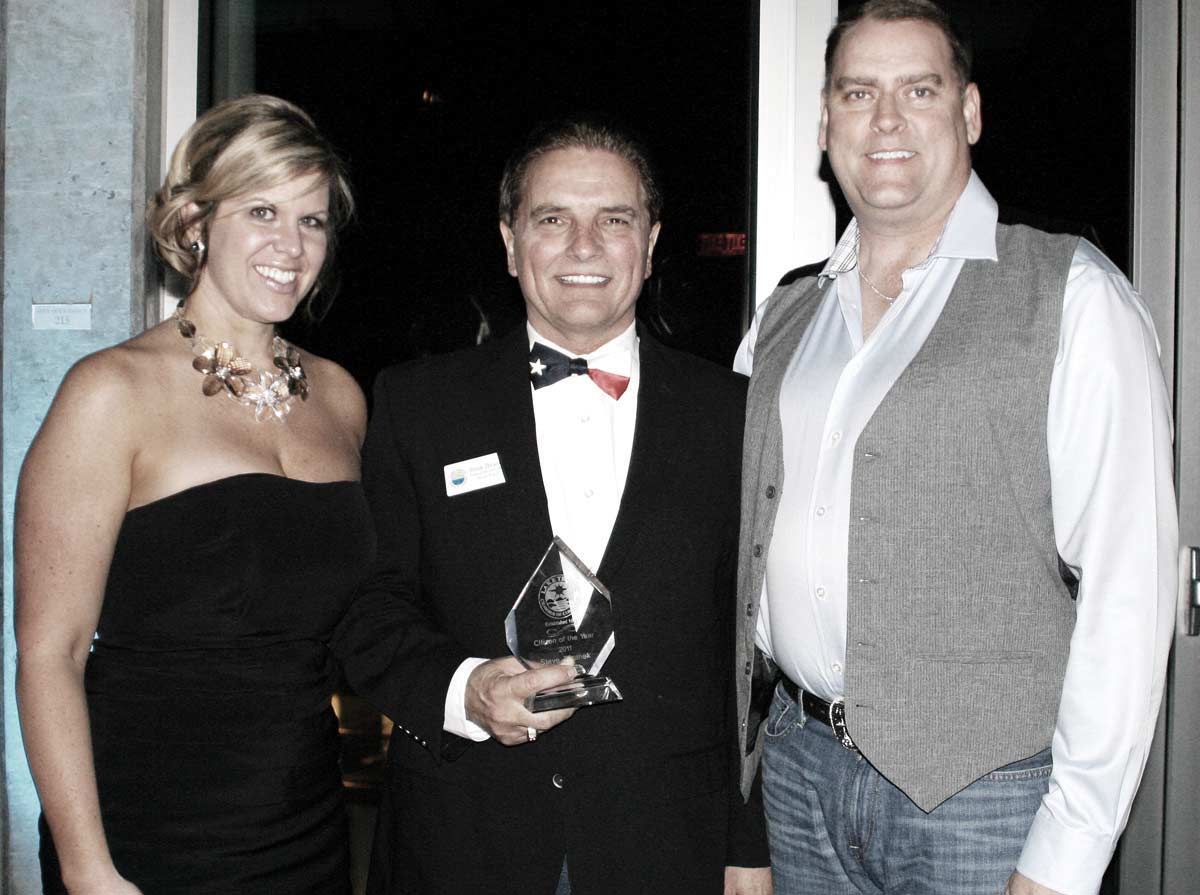 Austin Custom Home Builder, Steve Zbranek the 2011 Citizen of the Year pictured with Jaime Bush and Police Chief Todd Radford.
On Saturday, February 4th the Lake Travis Chamber of Commerce held their Annual Awards Banquet at the Lakeway Resort and Spa. Over 150 guests were in attendance as the chamber awarded their top personal recognition award, "Citizen of the Year" to Steve Zbranek of Zbranek & Holt Custom Homes. Zbranek was recognized for his service to the home building industry and to the Lake Travis Community. While serving as Immediate Past President of the Home Builders Association of Greater Austin Zbranek continued to instruct the Master Builder Classes for the University of Housing, the education arm of the National Association of Home Builders. In January of 2011 he was named the National Master Builder of the Year for the second consecutive year and has been recognized as a 4 Time Custom Home Builder of the Year. As Chairman of the Lake Travis Chamber of Commerce, Zbranek added value to the membership with programs such as the Economic Forecast Luncheon, Lunch & Learn Series and the Chairman's Message. Mr. Zbranek also created Leadership Lake Travis, which is now a successful program in its third year. As a strong supporter of Lake Travis Independent School District, he advocated heavily in support of the Bond, served on the citizen's review search committee for our new Superintendent of Schools and sponsored the State Champion Lake Travis Cavalier Football team.
Additionally, Steve Zbranek was a founding Board Member for the Lakeway Police Memorial and Benevolent Foundation and is currently serving for a second year. He also participated in the single largest fundraiser for the new Lake Travis Community Library, "Dancing with the Stars" and has agreed to assist this year's planning committee with this year's event coordination. In addition to his volunteer hours, Steve Zbranek, through his company Zbranek & Holt Custom Homes, raised over $ 5000 for charities such as the Lake Travis Education Foundation, Lakeway Police Memorial and Benevolent Foundation, San Juan Diego Catholic High School, St. Michaels High School and the Lakeway Community Library. Together with business partner, Tony Holt, Zbranek & Holt Custom Homes has begun the ground work for their next philanthropic benefit home program. Their goal is to build a home for a military veteran and give it to them mortgage free. Zbranek shares the distinction of being named "Citizen of the Year" with his entire team as he and Holt strive to have each member actively involved in the greater Austin community. Whether it's building a custom home project and the client relationship or stepping up to assist in the community the company philosophy is pervasive and shared by all at Zbranek & Holt Custom Homes. The Zbranek & Holt Custom Homes company model is to build only pre-sold custom homes. Since the company does not own land, or build unsold speculative homes, they are able to secure the company's financial future indefinitely. As such, Zbranek & Holt builds every home with every buyer considered as their next "Show Home". Steve Zbranek states, "Every builder will say that creating a dream home for a family is their greatest reward, after 32 years in the business I have come to appreciate something more. Building a new home from scratch is a fun, creative and often stressful event. For the past five or six years we have adjusted our model considerably to improve the customers experience throughout construction. We strive to keep the process fun for our clients and take on the role of being the "on call" housing expert for years after completion, truly exemplifying a heightened level of "Customer Service". Our satisfied customers would build with us again and compliment our process whenever asked. The best thing to me, personally, about my work is the relationships that we now build with our team, vendors, the community and of course our customers. Once upon a time, it was just about building houses…today there's so much more to it." Zbranek & Holt Custom Homes proudly builds in Austin, Westlake, Lakeway/Lake Travis, Horseshoe Bay, Marble Falls, Burnet, Lago Vista, Dripping Springs, Fredericksburg, Wimberley, Johnson City, Round Rock and Georgetown.