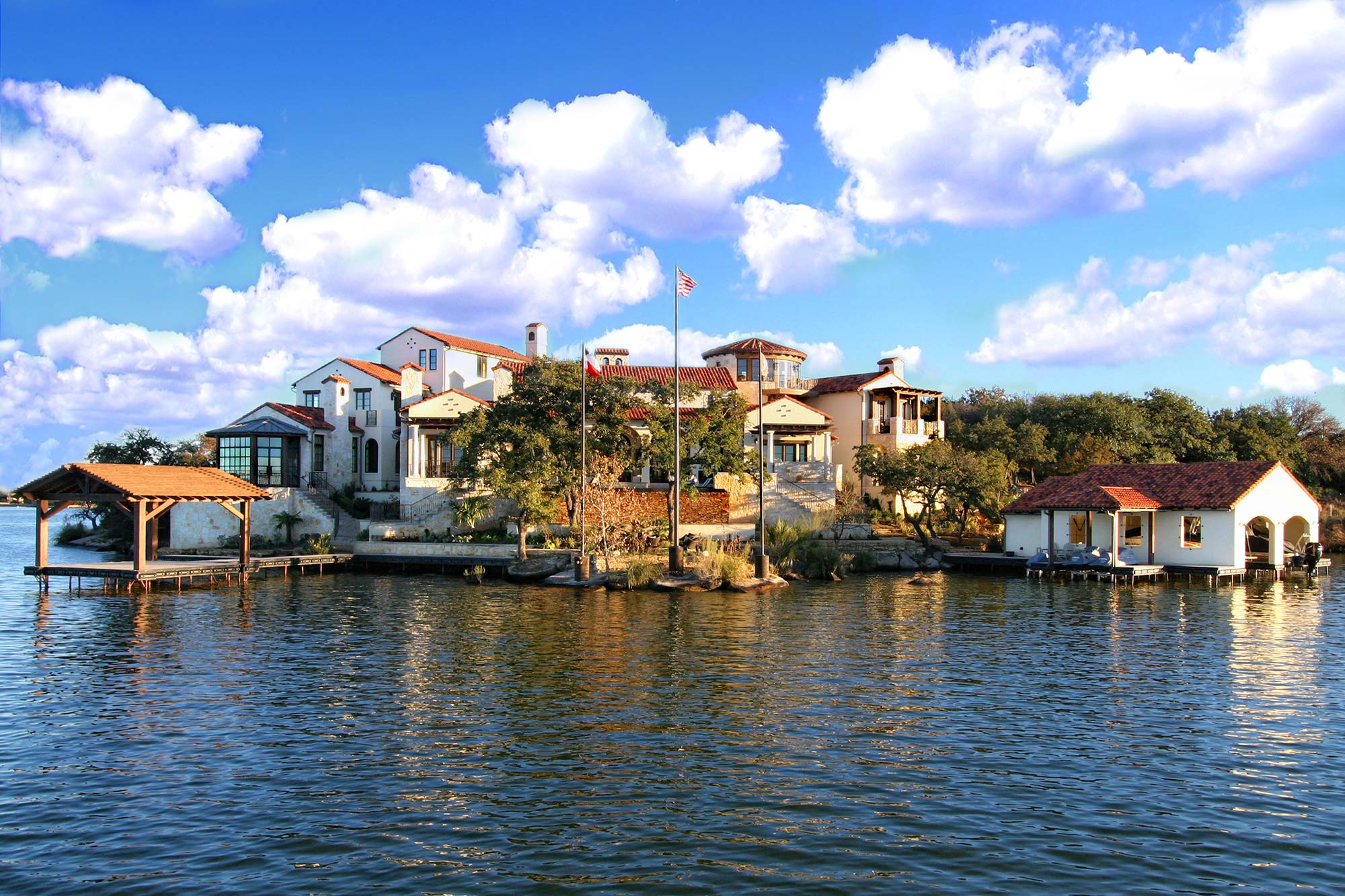 The following article, written by Steve Zbranek Owner of Zbranek & Holt Custom Homes, will run in the September 2012 issue of Builder and Developer Magazine, a national magazine for US Homebuilding Professionals. The Business Management Tool for Homebuilding Professionals, Builder and Developer Magazine is a national homebuilding trade magazine providing the latest editorial, up-to-date news, industry events and product and service information.
Exterior view of a Zbranek & Holt Custom Home project in Horseshoe Bay Texas overlooking Lake LBJ.
Master Builders Create Amazing Exteriors, Curb Appeal and Fun!
Over 20 years ago the University of Housing, the education arm of the National Association of Home Builders, began offering classroom training for home builders and remodelers. The goal of this new program was to get these company owners and contractors to expand their industry knowledge beyond what could be learned in the field. Upon completion of a specific syllabus graduates were awarded designations such as Certified Graduate Builder, Certified Graduate Remodeler and the prestigious designation of Graduate Master Builder. The initial courses focused on building a better home with topics such as scheduling, estimating, mechanical systems, building permits and plans, job cost accounting and others. The Master Builder curriculum focuses on running a better building company, building better homes and creating customers who can be described as "Raving Fans".
Today, the Master Builders across the country continue to take the spirit of the "Master " designation to the next level. As a group we try to stay ahead of (not on top of ) the latest building trends and technology. For example, energy efficiency is, and continues to be, a national focus for new construction in both commercial and residential buildings. To that end customers today can expect to find the latest cost saving technology in even the least expensive homes. The appliance manufacturers are working frantically to keep up with the automobile and smart phone industries in the area of programmable, digital, intuitive and just cool features for their coffee makers, microwave ovens and stoves. These and other efforts to build better homes make this the best time ever to buy a new home. In addition to being shelter today's homes cost less to run and in many ways are "fun".
While industry engineers, architects and product developers are hard at work on creating better homes Master Builders are now focused on creating better processes. Simply stated, if the home is fun how much fun was it getting to that point? The best builders today (Master Builders specifically) are now shifting their attention to how to help their customers enjoy building a home, selecting the materials, processing financing, following a budget and most importantly receiving over the top service after the sale. We understand that the winners in this category will have the happiest customers and make the most money. Buying a home or building one from scratch is an emotional experience. Emotions come in all colors and Master Builders realize that we are almost completely in charge of these emotions whether they are pleasant feelings or the other bad ones.
While much time could be spent on this subject, an easy to understand example is the smile that we want our new home buyers to have every time they pull into the driveway of their new home. During the design process most of the focus is on room layouts, traffic flow and other floor plan dynamics that makes the home work for the lifestyle of the specific family. Usually when that's completed you add windows, doors and a roof to where they want to live and see what the picture looks like. Master Builders work with architects and plan designers to create the warm driveway feeling while arranging the rooms inside. Minor adjustments can help create amazing exteriors. A builder in one of my classes at the International Builders Show in Las Vegas once told me that the biggest compliment he has received from a customer is that they can always pick out one of his beautiful homes in a neighborhood without going inside. This was a Master Builder attending a class for his required continuing education to maintain the Master Builder designation.
Amazing exteriors and excellent curb appeal is a single example of making the customers happy, while making more money. Home building is a challenging career. Working against the grain with home buyers can change challenging to miserable, for the builder and the buyer. As Graduate Master Builders we first want to thank all of the hard working people around the world who are focused on giving our customers the most energy efficient, safe and fun homes ever built. While you focus on that, we will continue to find new ways to make owning the American Dream exciting and fun.
Steve Zbranek is the owner/partner of Zbranek & Holt Custom Homes, Ltd located in Austin Texas. Recent recognition includes being named the 2010 & 2011 "National Master Builder of the Year", 2010 & 2011 "Austin Custom Home Builder of the Year", 2010 "Texas Custom Home Builder of the Year", 2011 Chamber of Commerce "Business of the Year" and the 2012 Chamber of Commerce "Citizen of the Year".