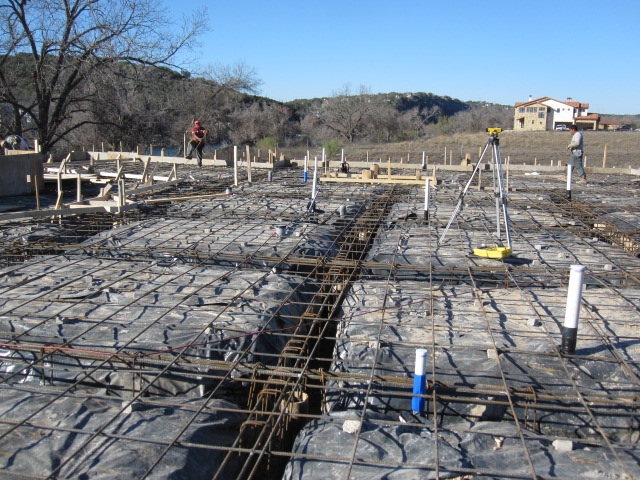 Happy New Year from the building team at Zbranek & Holt Custom Homes!
2011 was our busiest year ever in terms of new home inquiries and custom home clients and 2012 is off to a big start! All of the good news nationally about Austin should be paying off for everyone soon. Currently, 80% of our home buyers are moving here from another city and half from another state.
Zbranek & Holt Custom Homes began the year with our first foundation being poured on our latest custom home project in Bellagio Estates on Lake Travis in Steiner Ranch. This slab, with over 11,000 square feet of slab area required over 50 trucks to haul in over 500 yards of concrete material. Our homeowners are very excited to see their new Austin dream home begin to take shape!
Steel reinforcements are placed prior to the slab pour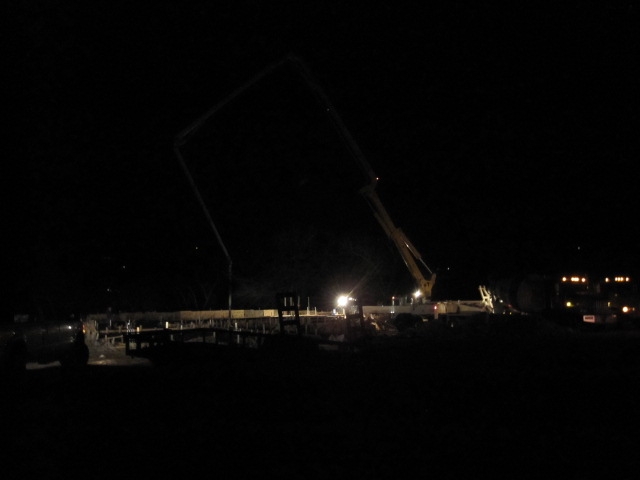 In the early hours of the morning concrete trucks began to unload over 500 yards of materials.
Housing starts are beginning to rise around the country as well as in Austin, which we have been told is the first sign of some labor and material price increases.  For those who have waited to buy a new home at the bottom, now is the time.  While we expect interest rates to remain low until after the election, politics will have little to no effect on the supply and demand cycle of new home products.
As a fixed price builder, Zbranek & Holt Custom Homes issues purchase orders at the time a contract is signed with a family to lock in prices throughout their project.  This is enables our clients to truly  know the final cost, up front. Our custom home clients in Austin appreciate this "No" Surprises approach to building their dream home.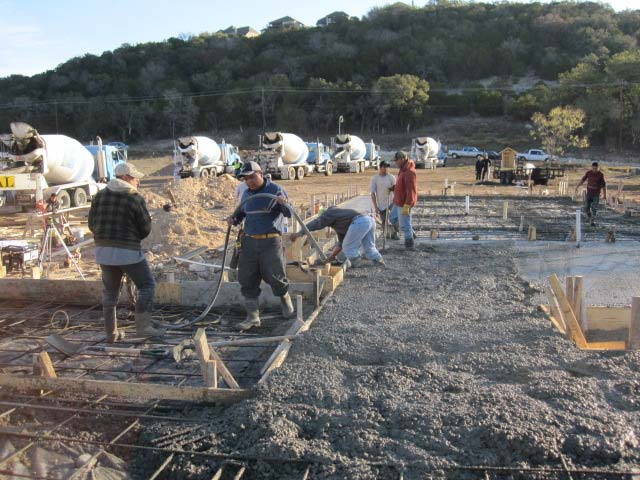 Over 50 trucks were used to haul the material for this project.
[et_pb_image src="https://www.zhcustomhomes.com/wp-content/uploads/2020/03/LAP-completed.jpg" show_bottom_space="off" align_tablet="center" align_phone="" align_last_edited="on|desktop" admin_label="Image" _builder_version="4.4.0″ custom_margin="||12px|" custom_margin_tablet="" custom_margin_phone="" custom_margin_last_edited="on|phone" animation_style="slide" animation_direction="left" animation_duration="500ms" animation_intensity_slide="10%" use_border_color="off" border_color="#ffffff" border_style="solid" animation="left" sticky="on" always_center_on_mobile="on"][/et_pb_image]
The slab pour is completed.
All Zbranek & Holt custom homes are pre-sold to customers desiring our full service capabilities.  As new home builders in Austin and the surrounding Hill Country of Texas, we understand the importance of providing our clients with a full range of services.  Zbranek & Holt is a full-service, fixed price luxury custom home builder and does not build any speculative homes; nor does the company hold any inventory property.
We at Zbranek & Holt Custom Homes are truly proud of what we have achieved for our clients.  All Zbranek & Holt Custom Homes Project Managers are National Association of Home Builders (NAHB) Certified Master Builders, Certified Graduate Builders and Certified Green Building Professionals.  The company is the recent recipient of numerous awards including 2-Time National Master Builder of the Year, Texas Custom Home Builder of the Year, 2-Time Austin Custom Home Builder of the Year as well as Business of the Year from the Chamber of Commerce as well as numerous individual product awards.  Zbranek & Holt Custom Homes proudly builds luxury custom homes throughout the Texas Hill Country including greater Austin, Westlake, Lakeway, Lake Travis, Dripping Springs, Marble Falls, Horseshoe Bay, Highland Lakes, Burnet, Johnson City, Wimberley, Fredericksburg, Georgetown and Round Rock.
We wish everyone the best for 2012 and look forward to working with you if a new custom home is planned for this exciting new year.