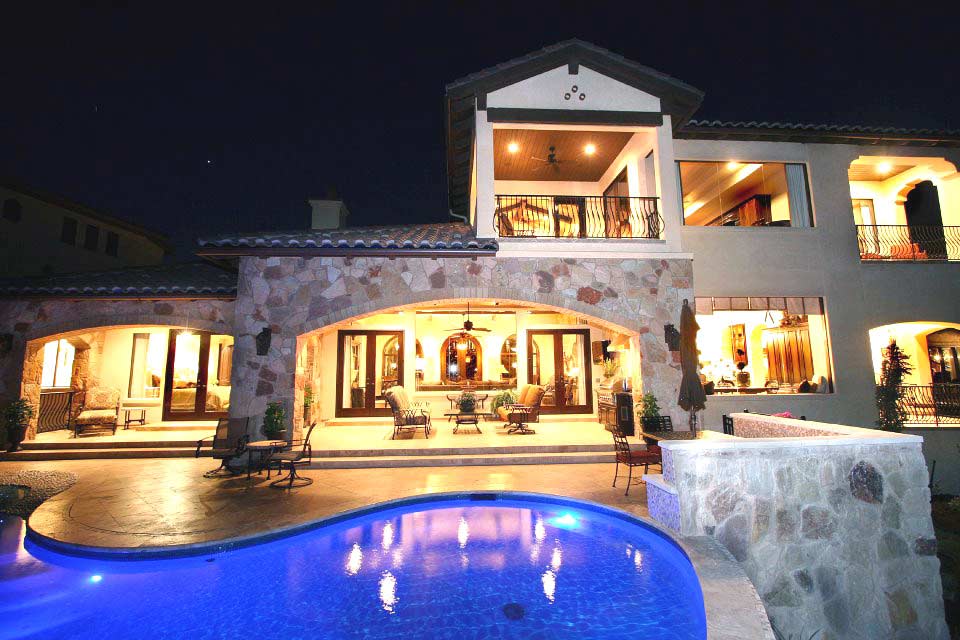 At Zbranek & Holt Custom Homes, an Award Winning luxury custom home builder in Austin Texas both company partners as well as all Project Managers are Certified Green Professional Builders. Zbranek & Holt believes all of their team actively involved in the home building process have the highest level of certification from the National Association of Home Builders (NAHB). In fact, two Project Managers from the Zbranek & Holt team have gone on to receive their Master Certified Green Building Professional designations. This being the highest level of Green Certification from the NAHB.
Our commitment to supplying our clients with the most energy efficient options for their individual custom home projects in the greater Austin Texas area continues to be a priority for the Zbranek & Holt Custom Homes team.
Reprinted from the January 16, 2012 National Association of Home Builders "Nation's Building News"; The Official Online Newspaper of NAHB
Green Building Popularity of National Green Building Standard Continues to Grow
This 2011 Texas Star Award Winning Home by Zbranek & Holt Custom Homes utilized full foam insulation which dramatically reduced the homes energy costs.
As the third anniversary of the National Green Building Standard nears, the number of green-certified homes and developments continues to achieve successive, new, growth milestones that reflect a continuing interest in sustainable design and construction — and an increasing preference for certification to the standard.
The vast majority of the certifications have been through the National Green Building Certification Program administered by the NAHB Research Center.
As of Jan. 8, 7,369 single-family homes and townhomes, apartment and condominium units, residential subdivisions and remodeling and renovation projects had been certified to the standard or its precursor, the Model Green Home Building Guidelines.
"The increase, particularly in multifamily, has been just remarkable," said Michelle Desiderio, director of the Research Center's Green Building Programs. She said verifiers recently submitted inspection reports for 24 new multifamily buildings — in just one week — and that interest is specifically growing in urban areas, including Chicago, New York and Washington, D.C., where certifications can encompass buildings of 200 to 300 units each.
Single-family certifications continue to do well, especially east of the Mississippi River, where home builders in a growing number of market areas are certifying to the standard not just to stand apart from the pack — as was the case just two years ago — but to stay competitive with other companies that see green certification as part of the cost of doing business.
In all cases, "the standard is helping builders gain more traction in their market because it really sets these new homes apart from existing homes," especially when the market is flooded with resales, Desiderio said.
Energy Star Changes a Boost to National Green Building Standard Certification
Changes to the Energy Star certification process have brought a new wave of home builders to the National Green Building Certification Program, she said.
While Energy Star is a national energy-efficiency brand with strong consumer recognition, the program has expanded beyond its R-value and appliance efficiency requirements to include indoor environmental quality, moisture management and other non-energy efficiency areas.
An increasing number of home builders are reasoning that the National Green Building Standard is just as stringent, but far less complex than Energy Star to "build fully green," Desiderio said.
Recognition of the standard as a valid green building program is also gaining traction with state and municipal officials regarding incentives and set-aside programs, she said.
While Desiderio acknowledged that the U.S. Green Building Council's LEED certification has a longer track record, these local and state officials are recognizing the standard is a "more rigorous, but more affordable green building rating system" and that home builders, developers and architects have been quick to embrace the program, she said.
"LEED and Green Communities were out there first, but what we found is whenever we are invited to the table, 100% of the time we have been able to convince [lawmakers and regulators] that the standard is on par," she said.
Consumer Resources Seen as Key
With more potential home buyers and renters visiting the NAHBGreen website to learn more, the Research Center upgraded the site in 2011, paying particular attention to components that interested consumers and making the search features easier to navigate.
Prospective home buyers now can search the site by type of home and location and renters can locate green-certified projects in their markets as well, Desiderio said.
More consumers are also taking advantage of the green hotline — asking for information about green builders in their area and more detail about what a green home encompasses, she noted.
For additional information about green building programs and resources, visit www.nahbgreen.org.
More about Zbranek & Holt Custom Homes of Austin Texas
All Zbranek & Holt custom homes are pre-sold to customers desiring our full service capabilities. As new home builders in Austin and the surrounding Hill Country of Texas, we understand the importance of providing our clients with a full range of services. Zbranek & Holt is a full-service, fixed price luxury custom home builder and does not build any speculative homes; nor does the company hold any inventory property.
We at Zbranek & Holt Custom Homes are truly proud of what we have achieved for our clients. All Zbranek & Holt Custom Homes Project Managers are National Association of Home Builders (NAHB) Certified Master Builders, Certified Graduate Builders and Certified Green Building Professionals. The company is the recent recipient of numerous awards including 2-Time National Master Builder of the Year, Texas Custom Home Builder of the Year, 2-Time Austin Custom Home Builder of the Year, and Business of the Year from the Chamber of Commerce as well as numerous individual product awards. Zbranek & Holt Custom Homes proudly builds luxury custom homes throughout the Texas Hill Country including greater Austin, Westlake, Lakeway, Lake Travis, Dripping Springs, Marble Falls, Horseshoe Bay, Highland Lakes, Burnet, Johnson City, Wimberley, Fredericksburg, Georgetown and Round Rock.