Local Custom Home Builder, Steve Zbranek of Zbranek & Holt Custom Homes is hard at work these days. When not overseeing his successful custom home business, Zbranek can be found practicing his dance routine for the upcoming "Dancing With the Stars" benefit for the new Lake Travis Community Library. When first asked to participate in the event, Steve Zbranek didn't realize what a commitment he would making. His dance partner, Jennifer Kloss, an American Smooth Ballroom Grand Master and 19 year Ballroom teaching veteran, is putting Zbranek through the paces for their performance at the upcoming event.
Come on out October 2nd to see the final result of Steve and Jennifer's time together as "dance partners" for the Lake Travis Community Library. The event will be held in Lakeway, Texas at the World of Tennis.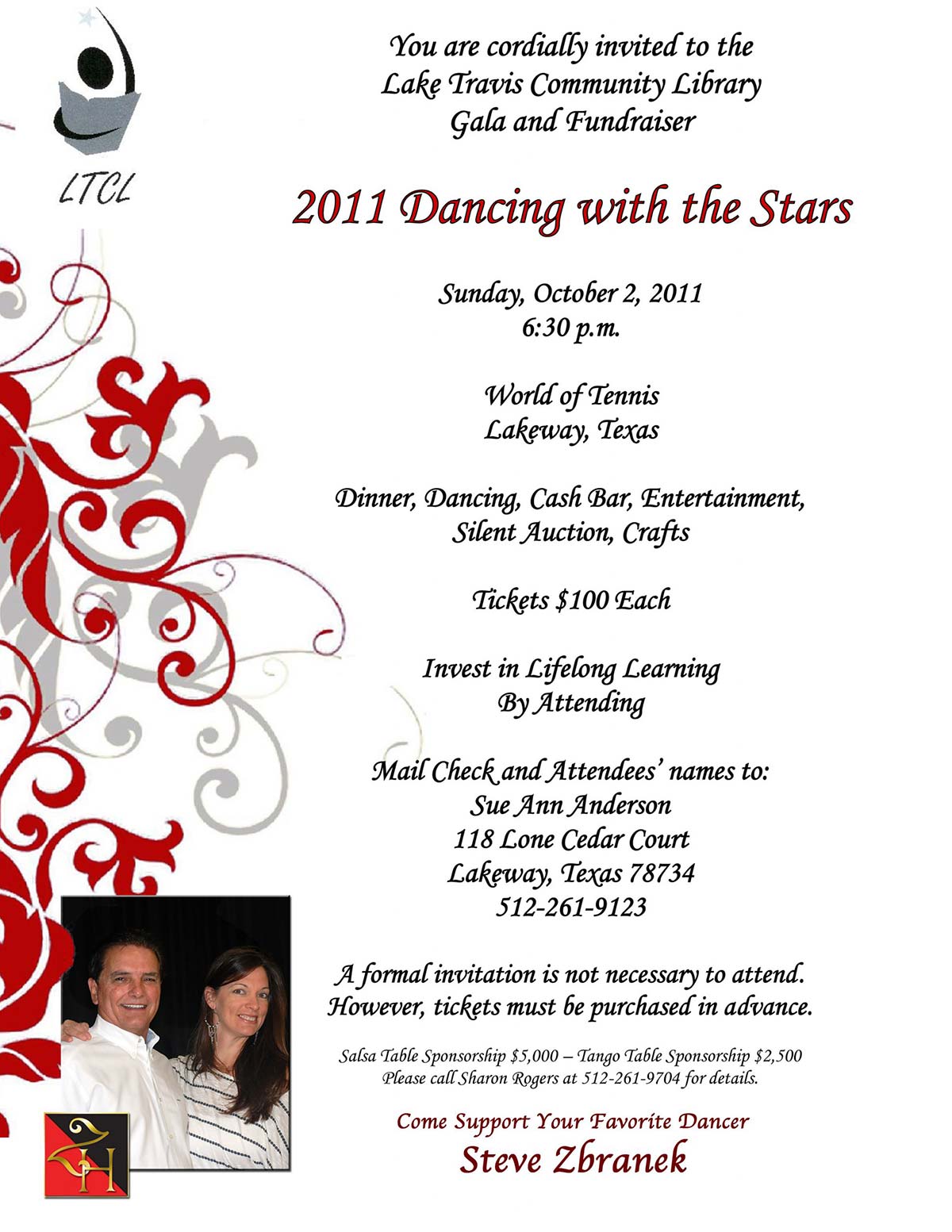 The Lake Travis Community Library was founded in 1985 and through the generosity of Lake Travis ISD, shared space with the Lake Travis High School Library for over 20 years. In May 2004, voters approved the formation of a Lake Travis Community Library District as a means to create public funding for a regional library. The library district includes Hudson Bend, Lakeway, The Hills, Spicewood and Briarcliff.
In February 2006 the library district signed a lease for a 3,500 sq. ft. retail space in the Lohman's Crossing Shopping Center and moved into this space in March 2006. As Lake Travis continued to grow the need became apparent that a new dedicated piece of land would better accomodate a community library. Generous donor Haythem Dawlett and LTCL Board of Trustees signed the offical documents on March 3, 2011 and the deed to the land for a new library building was in place!
The Lake Travis Community Library District has continued its efforts to raise money to build the new library. This years Dancing With The Stars event will further these fund raising efforts.
Steve Zbranek is no stranger to community philanthropic efforts. Along with his business partner, Tony Holt they have prided themselves on supporting the greater Austin and Lake Travis communities. The duo first met while working on building a Benefit Home for the Lake Travis Education Foundation in 2004. Just last year, Zbranek & Holt Custom Homes contributed $150,000 to the Lake Travis Youth Associated after building a Benefit Home in Rough Hollow Lakeway. The company seeks to continue its support of the greater Austin and Lake Travis Texas communities that have supported their growth over the years. Based in Lakeway, Texas, Zbranek & Holt Custom Homes is a full-service, fixed price custom homebuilder building only pre-sold custom homes in the greater Austin area and surrounding Texas Hill Country.