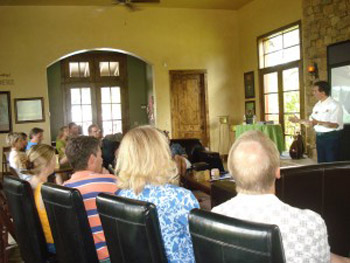 This past Sunday saw over 180 individuals attend the Hill Country Home Tour and Creative Outdoor Living event at Belvedere on Hamilton Pool Road. Steve Zbranek, National Master Builder of the Year, Custom Home Builder of the Year for Austin and President of the Greater Austin Home Builders Association lead two separate seminars on creating an outdoor living space.
Zbranek showcased the amazing changes that are taking place in backyards all across this country. He discussed the essential design elements that are necessary to create an outdoor retreat such as maximizing your property views and topography and also helped visitors understand expenses associated with creating outdoor living areas.
His presentation included a discussion of the newest outdoor products and cutting-edge kitchen appliances and fixtures that have just hit the market, along with the creative use of glass and retractable doors to create outdoor connectivity to terraces, courtyards, patios and decks.
Attendees also experienced a cooking demonstration by Traeger Grills and sampled an array of smoked foods including salmon, sausage and assorted vegetables, while having the opportunity to speak with a designer from John Williams Interiors, Houston Architect Rodney Stevens, and local Internationally Award winning Pool Designers, Da Vida Pools.
Numerous Belvedere Homes were open for viewing including the recent Award Winning Best Custom Home built by Zbranek Custom Homes at 7800 Lynchburg Dr.