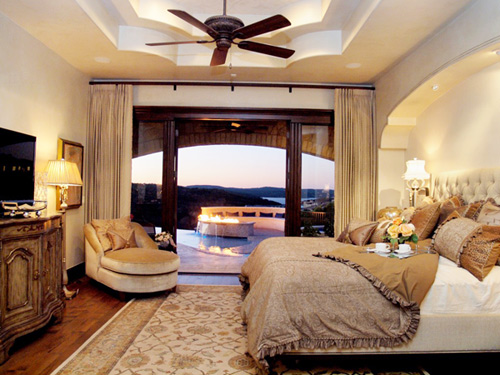 Zbranek & Holt Custom Homes in Austin Texas, is honored to once again be the recipient of the 2011 Texas Star Awards and send our congratulations to all the Winners for their excellent work.
2011 Star Awarded Best Master Bedroom
Click here to see our Facebook Photo Album of the Zbranek & Holt Custom Homes 2011 Star Awards for Best Master Bedroom, Best Master Bathroom and Best Outdoor Living Space for homes priced over $1Million dollars. The custom home that won these 2011 Star Awards by Zbranek & Holt Custom Home was featured in the 2010 Parade of Homes for the Home Builders Association of Greater Austin that took place in Rough Hollow Lakeway. This luxury custom home featured spectacular views of Lake Travis from virtually every room in the home. The Master Bedroom and Bath were designed to create a tranquil retreat for the homeowners and featured exceptional private views of the Outdoor Living space. This space as well won the Texas Association of Builders Star Award for Best Outdoor Living Space and features a complete outdoor misting system making the space enjoyable during the hot Austin Texas summers.
Zbranek & Holt Custom Homes is a full service, fixed price custom home builder with over 32 years in the home construction industry lead by business partners Steve Zbranek and Tony Holt. Zbranek & Holt Custom homes builds only pre-sold custom homes in the Greater Austin, Westlake, Lake Travis, Horseshoe Bay, Georgetown and surrounding Hill Country areas.