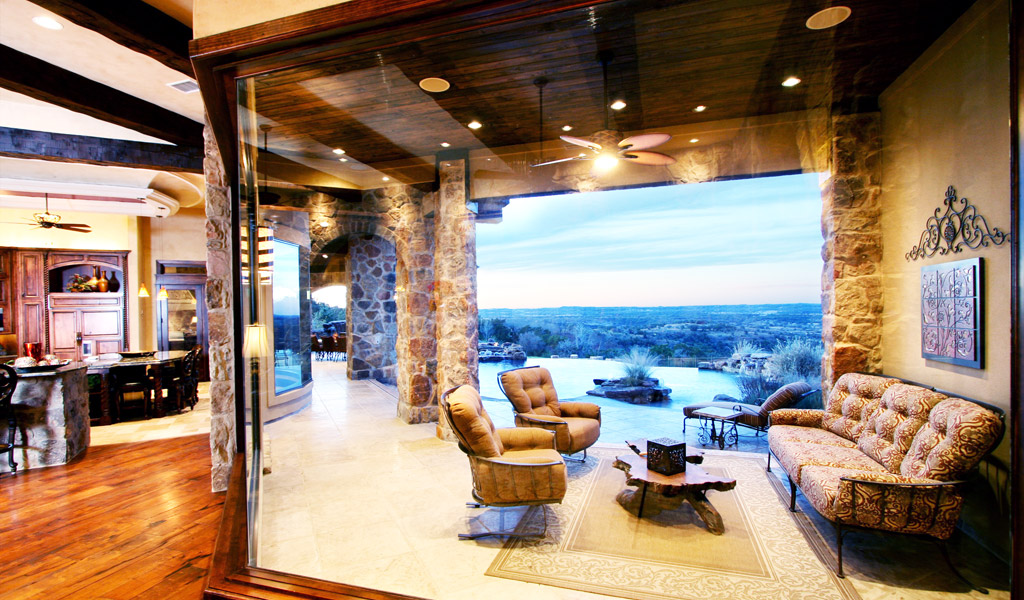 Walls of glass integrate the indoor and outdoor living space of this stunning Zbranek & Holt Custom Homes completed home.
Enjoy a free seminar and demonstration featuring Zbranek & Holt Custom Homes, 2-Time Winner Texas Best Outdoor Living Area, and see why outdoor living is in at Belvedere on Hamilton Pool Road. Drop by the amenity center to pick up our open home tour map. SUNDAY, MAY 20th 1pm to 4pm Belvedere Amenity Center at 17400 Flagler Drive 1:30pm to 2:30pm – OUTDOOR LIVING SEMINAR With new cooking, lighting, and entertaining ideas, outdoor living areas are becoming a whole lot more livable. If you live in Belvedere, you can add in a scenic pool and long view to make your backyard your favorite family room. Steve Zbranek, 2011 & 2010 National Master Builder of the Year, 2011 & 2009 Texas Best Outdoor Living Winner, 2-Time Austin Custom Home Builder of the Year and Past President of the Home Builders Association of Greater Austin will provide insightful information on creating captivating outdoor living spaces. Don't miss this opportunity to learn how you can get the most out of your property when designing a home while taking advantage of the beautiful Texas Hill Country:
Learn how to MAXIMIZE your property and views, to create functional and enjoyable living spaces
UNDERSTAND the expenses associated with creating outdoor living areas
Outdoor living areas as a way to EMBRACE topography
REVIEW appliances and fixtures specifically built for outdoor environments
LEARN creative uses for glass and retractable doors to bring the outdoors in
In addition, C&D Home Products, Starwood Pools and LandArt Garden Center will be on hand to demonstrate the top trends in water structures and swimming pools, landscaping and outdoor furnishings that perfectly compliment the vast panoramic views that overlook the one to three-acre home sites in Belvedere. 1pm to 4pm – HILL COUNTRY HOME TOUR Belvedere is home to some of the most beautiful homes and backyards in the Austin area. We'll be holding a special open house and home tour with an emphasis on outdoor living areas.
A "must see" is the Zbranek & Holt Presentation Home in Belvedere designed by Rodney Stevens, a Houston architect, who capitalized on the hill country views by creating a living environment that extends the boundaries of the traditional home. Materials such as native stone, rich aged wood flooring, and hand-carved beamed ceilings give the home a warm, decidedly Texas flavor. Located at 7800 Lynchburg Drive.<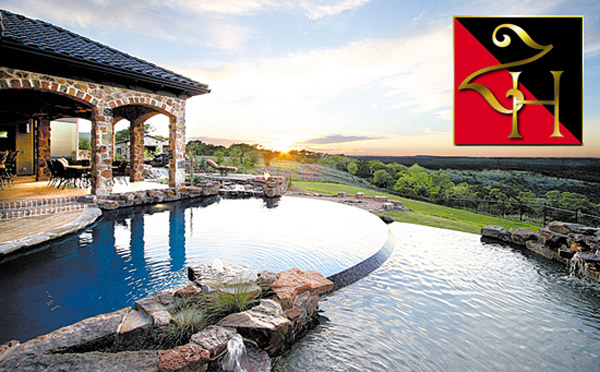 Sweeping views of the Texas Hill Country abound from the outdoor living space and pool of this Zbranek & Holt custom home in Belvedere off Hamilton Pool Road
Admission is Free – Call 1-866-929-LOTS for more information Belvedere is located 5 miles west of Highway 71 on Hamilton Pool Road. Just 10 minutes from the Hill Country Galleria. GPS Coordinates: 30.295647, -98.041692