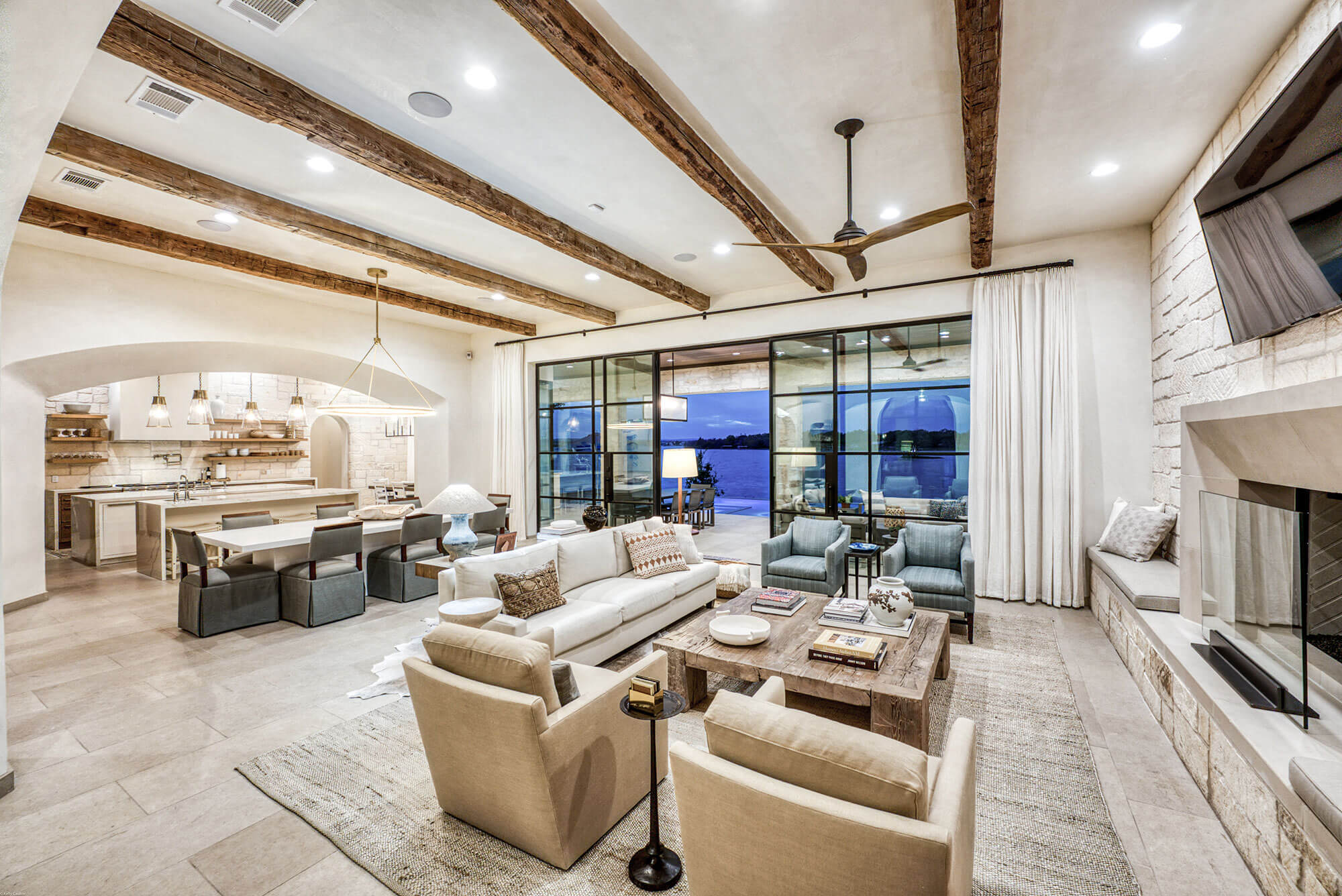 For those curious about building a custom home on Lake Travis is an upscale recreational spot located 12 miles northwest of Austin. Described by its sweeping sceneries, Lake Travis offers a viable opportunity for those who want to live in luxuriant, stunning natural surroundings while being near enough to access the numerous benefits of Austin's cultural and business site. On a 30-minute driveway from Austin, Lake Travis is the primary attraction of beautiful views and exciting water sports activities. Aside from being a popular Lake destination, the location provides natives easy access to the many amenities and world-class attractions.
The sunset sceneries from the outdoor balconies of The Oasis always end up tempting visitors to buy a lot on Lake Travis.
While featuring world-class luxuries, the lake has steadily grown as an engaging mainstay for new home developments. Many visitors are inspired to build a custom home on a standard affordable property in this area. In addition to relishing the amenities, home buyers always notice the neighborhood schools for their residents. Due to prominent growth in the spot, Lake Travis offers excellent academic schools.
Sometimes after comprehensive research, home customers realize there are no custom home builders on the market that can fit their budget and lifestyle. Unfortunately, finding a suitable custom home builder in one of the most famous areas can take time and effort, no matter where you dig.
All the decisions you will ever make on your journey to build a custom home in attractive locations require a genuine partner who will take your dream from concept to reality.
Envision a home built on your lot at high standards at a more affordable and fixed price. Unfortunately, not all Austin custom home builders can provide superior customer service and fixed costs.
Since the firm's inception, Zbranek and Holt Custom homes have grown and expanded their knowledge and expertise to build your dream home in all areas of Austin, Texas. We work closely with our customers to provide personal guidance and get a complete picture of their aesthetic preferences, design tastes, and lifestyle needs for the building process. We always believe in filling a void between builder and client while knowing our client's visions and thoughts before hovering over the process.
As a full-service custom building firm in Lake Travis, TX, we construct high-quality custom home properties at all cost points for our customers. When you work with us, you will find your building experience runs smoothly from start to finish, making this process fun and exciting. Having a genuine craftsman working on your undertaking constructs your new home in a timely and cost-effective manner. From internal to external, we get the work done from start to finish while focusing on the small details.
Zbranek & Holt custom home builders also have received awards for their energy-efficient homes and customer service. Zbranek & Holt always give immediate attention to every project and takes the extra mile while visiting the construction site to survey the land. Each home we build has tailored to our client's lifestyle while focusing on these principles:
Honesty
Integrity
Transparency
Green-building
Experience
Fixed-cost
Commitment
Quality
We endure to live out our values daily and never trade off the quality in all aspects of construction. Dedication and commitment to our service create a positive building experience for the clientele. As an innovative Austin luxury custom home builder, we propose an eye-opening variety of excellent interior services at costs that are as affordable as they are thoroughly impactful. Zbranek & Holt custom homes bring your design dreams to reality by providing a custom-crafted home that will fit perfectly with you and your family. Together with our creative team, we can complete a spectacular job.